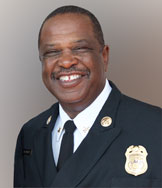 Assistant Chief Antoine McKnight was born and raised in the City of Los Angeles.   At an early age his uncle, Coach Caldwell Black, enrolled him in Pop Warner Football and became his coach and the major influence in his life teaching him self-confidence and determination.Although being born and raised in South Los Angeles, Chief McKnight attended school in the San Fernando Valley, Robert Fulton Jr. High School and Birmingham High School both located in the San Fernando Valley, through the Permit with Transportation (PWT) program.
Chief McKnight began his career with the Los Angeles Fire Department 1986 at the age of 26. He has held the positions of Firefighter Specialist, Firefighter/Paramedic, Captain I, EMS Captain, Captain II, Battalion Chief, Fire Chief Ontario Airport, and currently Assistant Chief.  His assignments have been diverse and challenging. He has been involved in many department projects, homeland security initiatives, and is also the former Vice President of the Stentorians.
In 2001, Chief McKnight began the West Los Angeles Fire Instruction Recruitment and Education (F.I.R.E) Academy at West Los College. This program was designed for High School age students and was a partnership with the Los Angeles Fire Department, The Los Angeles Community College District and the Los Angeles Unified School District. In 2011 in partnership with the Los Angeles Urban League, the Crenshaw High School Fire Academy was started. In 2012, Chief McKnight, with support of the Los Angeles Fire Department started the Los Angeles Metro Fire Academy, which is open to all Los Angeles Area High Schools.
The mission of the Los Angeles Metro Fire Academy is three fold, Develop Leaders, Teach Discipline and Inspire Community Service.
 Chief McKnight is a leader, a role model, a father, husband, and successful coach. He always maintains a positive attitude. He is CEO and Founder of Youth Training Academies International and holds an Associate of Arts Degree from Coastline Community College and is currently a candidate for a Bachelors Degree in Sociology from National University.  Additionally, he holds a Certificate from the Carl Holmes Executive Development Institute and a Certificate from the Los Angeles Fire Department Leadership Academy.
His favorite quote is "If it's to be, It's up to me".