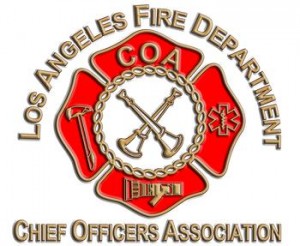 Presidents Message
To All Active and Retired Chief Officers:
Holiday Greeting
As we come to the end of 2022, your Chief Officers Association (COA) Executive Board would like to wish all our members, active and retired, a very healthy and happy holiday season.
As we reflect back during this year there have been some significant changes within the LAFD. As our new Fire Chief has taken the helm, we have seen command staff
changes, workload relief initiatives implemented, a new Diversity, Equity and Inclusion Bureau formed, and our LAFD budget increased to its highest level. The year has
challenged our Chief Officers with staffing shortages, large-scale emergency incidents, some with fire ground near misses.
As Chief Officers of this organization we are evaluated each day. The leadership and examples we set continue to resonate strength, guidance, and professionalism. Each of
you should be proud of the title and position you hold. You represent commitment, dedication, and perseverance that continues to make the LAFD better and stronger.
During this year we have seen tenured Chief Officers retire. They have contributed so much to all of us. As they leave and pass the torch of leadership to our current Chief
Officers, we will carry on with their innovative and collaborative stance to develop ourselves, thus ensuring the strength of our future.
During this Holiday Season, the COA Executive Board hopes that each of you has the opportunity to unwind, spend time with your family and friends and enjoy what matters
most.
Respectfully yours in service,
Your COA Executive Board, Dean, Mike, Robert, Guy, Carlos, Paul and Jason