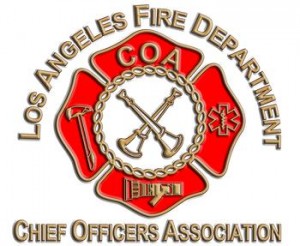 Presidents Message
To All Active and Retired Chief Officers:
Our Association and its members are going to continue facing challenges. In addition to DROP concerns and the ongoing threat to our Medical Plan we are already thinking about contract negotiations for MOU No. 22 which expires June 30, 2019.
Your Chief Officers Association has been and will continue to actively work with government officials, the Fire Commission, the Department Administration, United Firefighters of Los Angeles, and the various stakeholder groups that represent all members of the Los Angeles Fire Department to improve the high standards and professionalism of the Department. However, the only way for us, as an organization, to meet these challenges is through the involvement and committed teamwork of every member of the Association.
In addition to the labor relations component, the goals of the Chief Officers Association are to provide a social relationship and increase communications among all members. We will continue to host seminars aimed at inspiring our members to be better leaders and host symposiums which address issues related to the management and decision making required of our Chief Officers. These are areas where we are looking to increase the involvement of our members. This can be accomplished in any of the following ways; contributing to the monthly newsletter, running for a position on the COA Board as they become vacant, participating in a COA committee or simply by attending COA sponsored events.  As we continue to provide the necessary leadership within our respective commands consistent with the expectations of the public, our civic leaders, the administration, and most importantly, our subordinates I ask that you keep an open mind and think of the areas where you may be able to contribute to improve our Association.  Active members should have received a survey regarding the upcoming contract negotiations.  Please remember to fill these out and return by May 19, 2019.
Fraternally Yours,
Jaime