COA Leadership Symposium – September 6 at 8:15 hrs at Dockweiler Community Center (12505 Vista Del Mar, Playa Del Rey, CA 90293)


Keynote Speaker – Austin Beutner

FEMA CATF-1 – Hurricane Harvey & Irma 
CATF-1 was deployed to Texas on Saturday September 26 – conducted over a hundred rescue and are now staged in the Florida panhandle for Irma.

La Tuna Fire – On Friday September 1, 2017 a fast moving brush fire occurred in Battalion 12. The fire is approximately 60-70% contained but there are still many resources on the line. It was managed in Unified Command with LFD BRK GLN LAC. Your COA members were proud to be part of the Command and General Staff including many operational assignments.


LAFPP Board Medical Update – The COA is a stakeholder on the AD Hoc Committee on Retiree Health Plans and was in attendance for the first meeting on August 14. No action has been taken and we will ensure that your medical plans are protected. More updates to follow.

Retroactive Pay MOU 22 –  Active duty COA members recently received their retro checks. The department is researching a potential issue with over-payments. We have asked the department for a full explanation so that we can review and determine next steps.

Retirement Dinners – We will keep you up to date on the next dinners which will include Deputy Chief John Vidovich – Assistant Chief Greg Reynar & Battalion Chief Kevin Nida.

Castro's Court – Handball Tournament – Please join the LAFD – COA – UFLAC and many others for the dedication of the handball court at Fire Station 82 for Chief Deputy of Emergency Operations Joe Castro. October 13, 2017 at 12:00. Please standby for more information. Contact Captain Chris Yokoyama at 562-833-7233 if you are interested in attending and also playing in the tournament.

"Tip of the Helmet" to CATF-1 for work their hard work and dedication to our country.

 Great article in the New York Times about our very own LAFD FEMA CATF-1

When the Rescuers Come From Across the Country

MIAMI – The rescuers from California Task Force 1 had finally dried out. They had waded in the floodwaters left by Hurricane Harvey in southeast Texas. They had slept in stalls ordinarily used for horses, and two of the task force's men had survived being suctioned through a large pipe.

Thank You – Leadership Symposium Series

Thank you to Austin Beutner for his inspiring conversation with the men and women of the COA who joined us today to participate in this  first of several symposiums. We also send our best wishes and support to those members who could not attend today – whether it was those deployed to Hurricanes Harvey & Irma, La Tuna Fire or to the dozens of fires throughout the state of California.

Thank you Fire Chief Ralph Terrazas for your leadership and support – we are proud to serve the LAFD!
Fire Chief  Alan Brunacini – requiescat in pace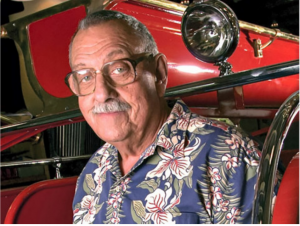 October 15, 2017 – The COA is saddened to announce the death of Fire Chief Alan Brunacini, the former Phoenix Fire Chief and a familiar face at fire service conferences and meetings. Brunacini, 80, joined the Phoenix Fire Department in 1958 and rose through the ranks to become fire chief in 1978. He retired in 2006. Chief Brunacini was known for his candor and practical approach to leadership and customer service. Chief Brunacini set an example for us all by constantly reminding us of why we are here: In his words, "WE ARE HERE FOR MRS. SMITH." Mrs. Smith represented a person who had a problem, usually not a fire, and had no one else to turn to but the fire department. The Good Chief taught us to be patient and kind to Mrs. Smith whatever her problem, because it is in the finest traditions of the fire service."
Celebration of Life
Saturday, November 04, 2017
1:00 p.m.
Comerica Theatre
400 W. Washington
Phoenix, Arizona 85003
Dress
Casual – Hawaiian Shirts
 Commissioner Ken Buzzell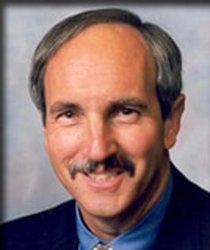 The COA welcomes Commissioner Kenneth Buzzell, the newly-elected Fire Department Retired Employee Member of the Board of Fire and Police Pension Commissioners!
In September 2017, a special election was held to fill the vacancy created by former Commissioner Sam Diannitto, who retired from the Board after 42 years of unwavering service to System members. Commissioner Buzzell will serve the remaining 27 months of a 5-year term ending June 30, 2020.
Commissioner Buzzell retired from the Los Angeles Fire Department as a Fire Captain II, after 32 years of service. He served on the boards of the United Firefighters of Los Angeles City (UFLAC), Local 112; the International Association of Fire Fighters (IAFF); the Los Angeles Retired Fire and Police Association (LARFPA); and the National Conference on Public Employee Retirement Systems (NCPERS).
Welcome Commissioner Buzzell and congratulations on your election!
Chief McKnight – Grand Champion of the 2nd Annual "Fire It Up" BBQ Competition
The COA congratulates our very own Executive Board Member Assistant Chief Antoine McKnight for showing off his BBQ skills and winning a clean sweep with the Best Brisket, Best Ribs and Overall BBQ Grand Champion. A benefit BBQ for the African American Firefighters Museum and the Fire Family Foundation.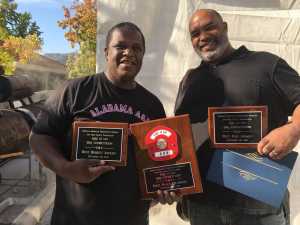 Chief McKnight & his associate chef
LAFD Women's Breakfast –
On September 15, 2017 the COA was a co-sponsor of the LAFD Women's Breakfast. Among the many recipients and attendees, we also celebrated the accomplishments of Fire Marshal & Deputy Chief Kristin Crowley, Battalion Chief Nikki Brodowy, Battalion Chief & COA Executive Board Member Kady Kepner , Battalion Chief Linda Cessor, Battalion Chief Kris Larson. We were proud to be in attendance and celebrate their many accomplishments.

New Promotions – The COA congratulates and welcomes Battalion Chief Doug Zabilski and Battalion Chief Paul Pham on their recent promotion to Battalion Chief